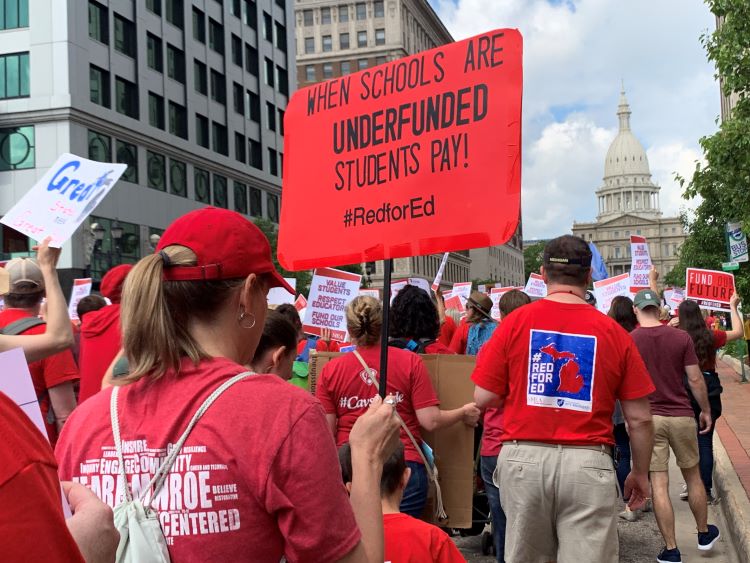 Under recent GOP leadership, growth in school funding for Michigan's public schools was ranked dead last across the nation. However, over the years we've fought side by side with our union allies like the American Federation of Teachers Michigan and the Michigan Education Association, public school teachers and students across the state, and everyday families to send the message that every child deserves a quality education, all teachers deserve to be properly compensated, and all schools should have the resources needed for success and sustainability. And since her election in 2018, Governor Whitmer has been fighting alongside her democratic colleagues to champion these priorities.
At For Our Future MI, we've stood alongside our union allies, teachers, parents, students, and public school staff at every step of the fight. We've advocated across the state for equitable funding, taken your stories to our elected officials in Lansing to show that Michiganders believe in quality education for all, and rallied on the capitol steps to ensure that zip codes don't dictate success. Now, with the historic provision of almost 20 billion dollars to public schools across the state in 2022, Michigan will finally be providing equitable funding for all. This funding, among other factors, will help increase the ability for schools to address mental health issues, special needs, and stabilizing at-risk students; ensure all children are giving a good foundation as they prepare to enter the K-12 system; provide money for schools to shore up crumbling infrastructure; and help create centers where students can engage in extracurricular activities.
We will continue to work with our labor partners and everyday allies to ensure that quality, accessible public school education remains top on the agenda of Michigan's legislators.
Support or Sign Up for News
Placerat adipiscing libero duis vitae hendrerit. Bibendum suspendisse sed in eget blandit posuere ultrices. Tincidunt maecenas donec est accumsan.