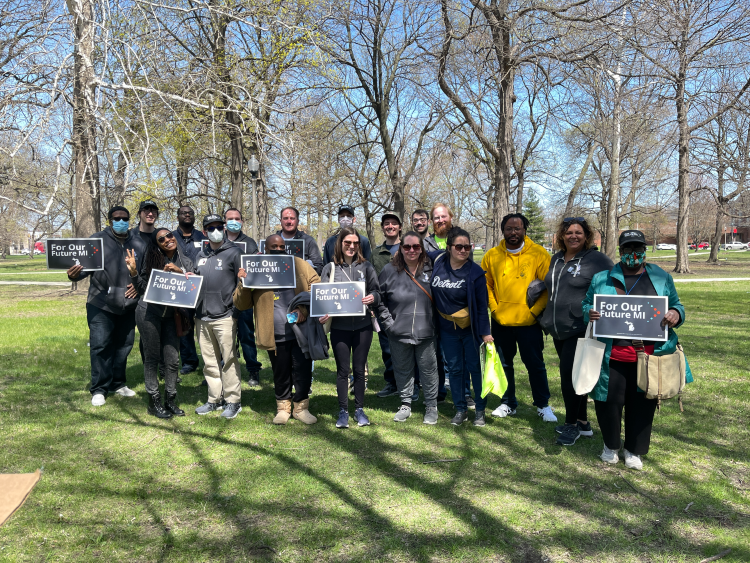 Centering Community, Fighting For Michigan's Future, Organizing to Win!
Our goal is to mobilize and empower people and community-based organizations to drive real change and advance our shared values. By working to empower people and organizations who are already doing great work in their communities, we can multiply our efforts to build lasting change that matters for every Michigander. This is community organizing to win!
We've spoken with thousands of Michiganders to increase citizens' awareness of voting rights and laws. We've engaged with local clerks across the state to host educational workshops and highlight voter concerns. We've stood alongside our allies across Michigan to raise awareness and fight back against the greedy decisions that led to lead poisoning in Flint, Benton Harbor, and Detroit. We've educated our community on the need for immigration reforms that center our shared humanity and the need to protect Dreamers. We've advocated for affordable and accessible housing, healthcare, and education. We fought for legislation like the Bipartisan Infrastructure Deal, American Rescue Plan, and American Families Plan, which all center social, environmental racial and economic equity.
With new leadership in Michigan, we are aiming to ensure that the health of our natural environments, communities, and families is put back at the top of the agenda. We want to live free from life-threatening pollution, we want to live free from fear of the drinking water coming from our tap, and we want to ensure that the Great Lakes can be enjoyed for generations to come. So we'll continue fighting to hold negligent and irresponsible corporations responsible when they harm our environment, to get the full funding we need to clean up our state and keep our service lines free from toxins, and to ensure that a prime focus is put into backing projects that promote green and renewable energy sources.
Action Hub
Join us and help make a difference in your community!
Volunteer
We're committed to seeing real progressive change in the Great Lakes state–but we can't do it without you. Join us.
Share Your Story
Real stories make a real difference. And the more voices, the louder our message. Share your story today.